How Do I Add Text And Numbers To Designs
Adding text and numbers can be an essential part of your design. In fact, some of the best selling t shirt designs are only well design fonts and numbers. We recommend using your favorite graphic design software to design your text and numbers, then export them as a PNG image to upload to the Apliiq website, just like any other artwork you want to upload. This approach gives you ultimate flexibility to use any font, layout, or colors to make your text based artwork really come out great.




We recommend cropping your artwork tightly (no additional white space or transparent space around your artwork), so that you can design to the full size on the website. If you leave a large transparent space around your image, that empty space may limit the size you can display your artwork in the mockup generator.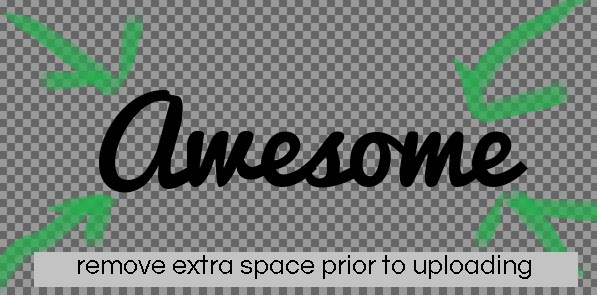 Here is an example of a properly cropped artwork.

Related Articles

4 Key Tips: How To Get Good Embroidery Results With Text

It's safe to say that everyone wants to get a good result with their embroidery artwork. However, managing the level of detail within your artwork is an important aspect of embroidery to ensure you are setting yourself up for success. Here's the ...

How Do I Add Products To My Shopify & WooCommerce Store?

Getting your products into your Shopify store is a critical step to getting your store live. After all, we want to drive product sales through your store so it's key to get your products loaded up there. In order for things to go smoothly, we ...

How To Add More Than One Color To A Product

If you want to add more than one color option to a product in your store you've come to the right place. This quick article will tell you exactly how to do that. But before we jump into the details, it's worthwhile to understand that offering more ...

Can other people sell my designs?

At Apliiq, we respect the hard work that goes into designing amazing products and building your brand. We have implemented precautions so that only you can dropship your products.

Can I add my woven labels to my campaign items?

Apliiq plans to discontinue support of its Campaigns feature in 2023. In December of 2022, Apliiq.com will be updated so that no new campaigns can be started. All active campaigns will still be supported. When all campaigns are concluded, campaign ...