That Feeling You Are Feeling Isn't Crazy

You just discovered that Apliiq is solely focused on delivering the highest quality apparel on demand and your current provider just isn't cutting it. Your brand and customers deserve the best quality apparel and the folks over at Apliiq know what it takes to start, build and scale an apparel line because we have done it before.

Whether it's the better selection of apparel products, the product labeling options, the unique designing capabilities or just being respected as a creative, you've come to the decision that it's in your best interest to make Apliiq your go to fulfillment provider, but there is a problem. You only just discovered Apliiq and you've already setup your store using a different dropshipping partner.

Here's Exactly Why It's Way Easier to Switch Than You Think

Well fear not, we've created a set of tools to make it super simple to switch your products from your existing manufacturer. This amazing little toolkit is great because it gives you the exact control you need;

It doesn't matter who you are switching from, the tool works to switch any products you want from your existing provider to Apliiq. You can switch only the products you want, you don't need to switch them all.

All of the work you've put into making your products amazing (descriptions, titles, images, etc) remains and is completely untouched by switching.

It only takes a couple minutes to switch each product.

So what are you waiting for? Get started upgrading your products to Apliiq's fulfillment capabilities, read on to see how.

What You Need To Make The Switch

We think it goes without saying, but you will need an
apliiq account
and the
apliiq dropshipping app
installed in order to make the switch. Also, it's a good idea to have access to all of your print ready artwork files as we will need to have those files on record in order to be able to fulfill your products.
We recommend you create a list of products that you want to switch over first. It just helps with overall organization and ensures nothing is missed. Perhaps tag those products so it's easy to filter them within your store. Open the list of products in your store to keep as a reference.

Step By Step Instructions To Switch

For the first product, select the product that is most similar (if not identical) in the products menu at the top of the Apliiq website.

2. Set the product color, labeling options, leave any necessary notes we need to correctly fulfill your product and upload your artwork for that product. Essentially, design the exact product you want Apliiq to fulfill for you, then click "Next" and select "dropship this product" option.

3. Select the tab "switch product to apliiq."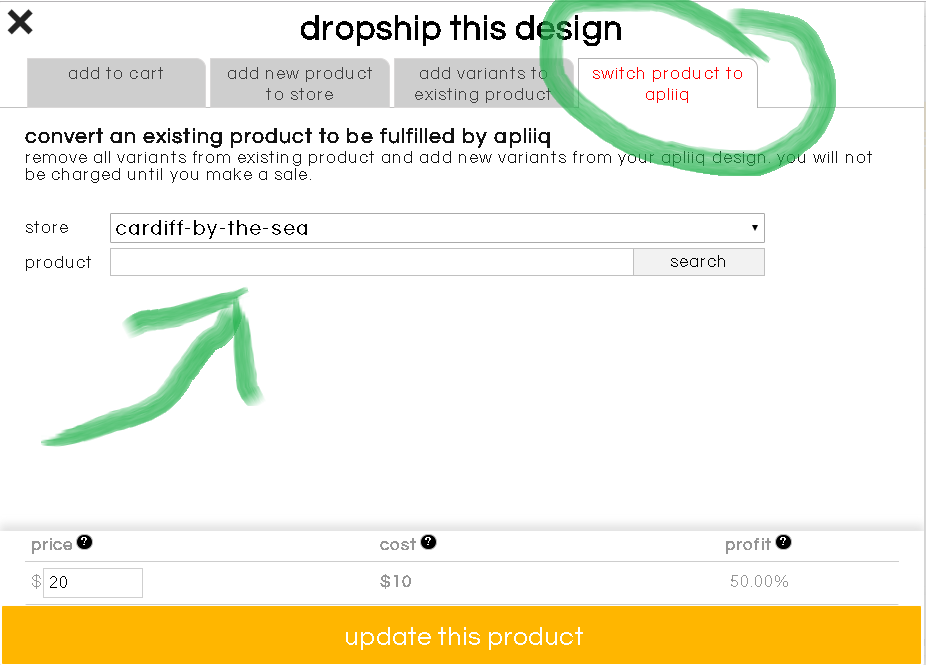 4. In the tab, the search tool will help you locate an existing product that you have in your store. Search for the product by the product name. If you are having trouble finding the correct product double check the product name in your products list within your store. Once you select the product you want to switch, you will see all of the existing variants on the product and the new variants Apliiq will add to the product.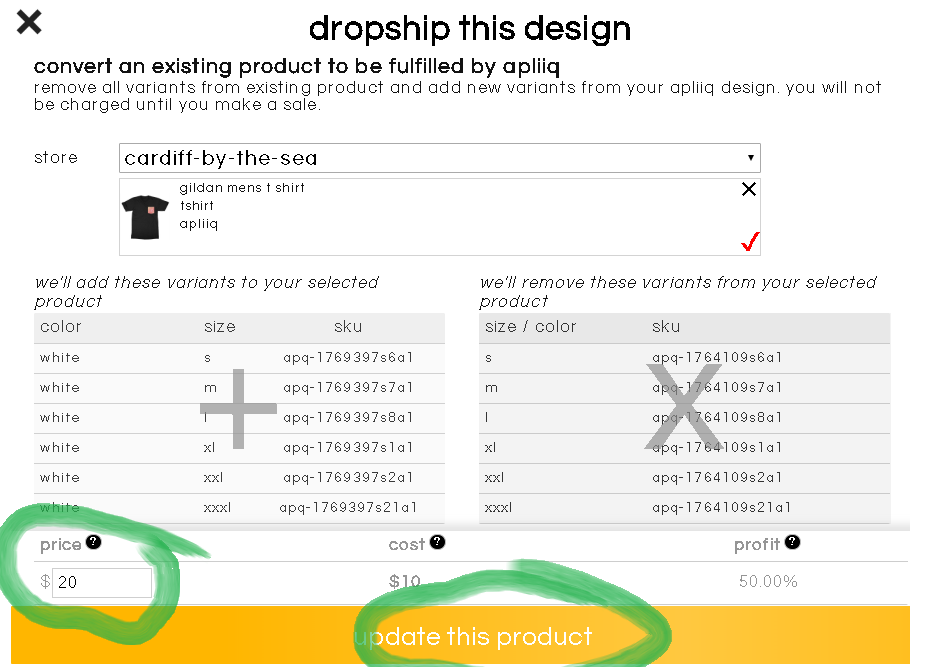 When you click to proceed with the switch, Apliiq will remove your existing variants and add the variants that are required so Apliiq can start fulfilling your items. If your product has more than one color variation simply see the article on to add multiple colors to a product.


It's important that you select the correct product from your existing store, since once we remove your variants it's not possible to bring them back. Also, in some cases it may be best to order a sample product, prior to switching products over. This gives you a chance to inspect the quality of the items and ensures that we are properly making your products to your specifications before we start shipping them to your customers.